Journnalist: Srisakul Lilapirapan

Intel Technology Asia Pte. Ltd., Singapore, in cooperation with Intel Microelectronics (Thailand) Ltd., The Rotary Club of Singapore, and Thai Youth Hostel Foundation have developed 'Project International Action' program to provide computer systems and education materials to less privileged rural children of Ban Pang Huay Tat School in Mae Tang District, Chiang Mai Province. Intel also gave the mobile PCs to the Thai Youth Community Foundation in Chiang Mai.


According to Jeff Stearns, the donated mobile and desktop PCs under this program were used at Intel office. Actually, when the time for replacement has come, Intel will donate the old systems to less privileged children all over the world to maximize usage of the systems.

Somchai Jongwattana, principal at Ban Pang Huay Tat School was also quoted as saying that the computers will be very useful for the school, especially the teachers. The ministry of education has sent them several educational CDs but they cannot use the CDs due to lacking of computer system. Now, they can make it with computers donated by Intel.
** Activities, see more update at : www.facebook.com/tycforg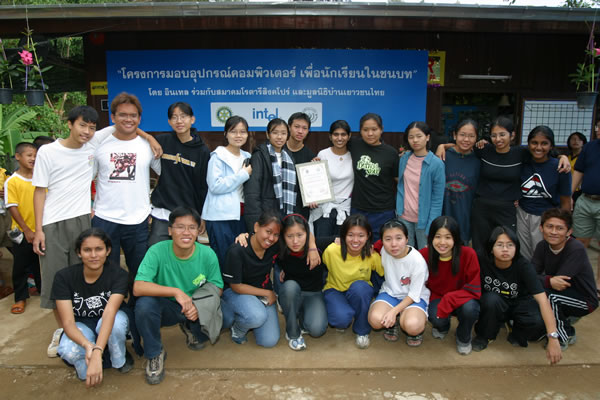 PRESS CLIPPING
CARL BYOIR & ASSOCIATES
Client: Intel Microelectronics (Thailand) Ltd.
Date: 19 December 20002
Circulation: 500,000
Publication: Matichon
Page: 19

Actual size of the article: 9.5" x 10"